December 1963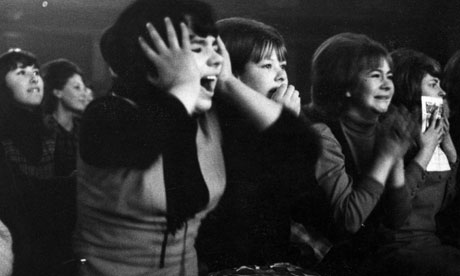 Beatles in Concert at the Gaumont, Southampton. December 13th 1963, And the End of `The Beatles Autumn Tour'.
Are you sitting comfortably? then I'll begin... Ruffty the squirrel was happy to find his nuts, after a very cold night... 'What?...' 'Oh, you want one of my true life growing up in the Sixties stories? why didn't you say so?'
'I'm not a mind reader you know. That would be spooky wouldn't it...Ah Cheese on toast you want now?'
"But Dad!¬ We know nothing of how your life was growing up!" say the kids.
Well now you do kids...Growing up in the late 50's and 60's is now covered by my Scruffy Kid memories...
come with me now to 1963, wrap up warm as none of the places we go have central heating. You are now entering the world of The Scruffy Kid.
Ah yes December 1963, wa
s still in the full grip of Beatles fever, 'I want to hold your hand' would be played everywhere.
The family are sat in my Grans living room. We kids, the brothers three and tiny Sis, had to be on our best behaviour as this is the room only used for best. "Mind what you do with that cup of tea" "yes Gran" I would reply as I dunk one of her homemade short bread biscuits. Oh crumbs they are scrummy.
Father and my Uncle are laughing as each take turns wearing the black mop like shaggy Beatles Wig, and I laughed till tears filled my eyes as Grandad with a huge grin has the wig plonked on his head by his son, this was considered long hair back then and on my grandad it looked Hilarious as he had grey and rather thinning hair, I'd never seen him with dark hair before it was strangely amusing, we would regard this Wig as short hair these days, my Brothers and I however did have really short hair cuts, "short back and sides" my father always asked the barber for us boys every time we were due a cut, I never liked it much, I have to say as my dark blond hair would curl every time it rained and I liked it when it was wavy and natural,but with a short back and sides it just tickled.
when us kids were allowed in the living room alone I'd tune the Radio until I found something funny to listen too, Grandads radio had the fan like grill made of
Bakelite. and the large dial would be lit up and you wound the pointer till you found some thing like this

http://www.bbc.co.uk/programmes/b007jv86

As yes the Goons this will give you belly laughs for sure and my belly enjoyed many a laugh with all the chuckles Milligan's Goons would conjure.
I'd end up imitating the voices of course and calling my dad "oohh you naughty man youuw."
I'm wearing my now well worn blue paisley jumper identical to my twins, unlike myself to my twin, my elder brother would be in his green reindeer adorned collared jumper. the only difference in trousers would be that his were long trousers even though I was almost as tall.
(Ah the shorter twin brother syndrome) and ours would be short.
Other jolly japes on the radio would be, Around the horn, Jimmy Cliverow, the Navy lark with Jon Pertwee, Ronnie Barker and Leslie Phillips to name but a few.

http://www.bbc.co.uk/programmes/b01nmgrk
Even Steptoe and Son, and Hancocks Half Hour were regulars on BBC's Radio.
I'm Sorry, I'll Read That Again maybe a show you know,
the pilot programme having been broadcast on 30 December 1963 under the title "Cambridge Circus" With

Tim Brooke-Taylor

(later became one of the three members of

The Goodies

). He has written humorous books on various subjects, including cricket and golf. He was a member of the cast of the television comedy series

At Last the 1948

Show

with John Cleese (as well as

Graham Chapman

and

Marty Feldman

), and later appeared in Marty Feldman's television comedy series

Marty

. Brooke-Taylor has acted in many other television sitcoms, as well as appearing in the 1970s BBC radio sketch show

Hello, Cheeky!

with

John Junkin

and

Barry Cryer

, a show which later translated to ITV.
I would very often find a new hole in my jumper and be told off for picking at it... I put it down to an over active moth or poor maintenance.
Now then, I do remember pulling on my charcoal grey duffel coat with it's red tartan lining and heading off to Town with the other family members, Gran and Grandad lived near the Town Centre so it was only a matter of a 20 minute walk to reach the Centre, the winter sky would be dark allowing the best view of the coloured water spouts from the fountain opposite the Guildhall and it was beautiful, I would race round it with my brothers , and the water that was now our backdrop would change from red, green, yellow to blue, onlookers would only see the shadowed figures of us boys full of laughter between the coloured sequences. 20 years later this would be dismantled and moved to front the museum but the lights were never to shine again....I think a tree fairy died that day just from the sadness of such innocent beauty being put to death.
Well after our usual run round the fountain, which happened every time we passed it, we headed to Woolworth's because the rumour was Santa was in town... yes the Real Santa!, can you believe that?... What did you say?.. Hum well anyway we were off to see the breaded one and we joined the long throng of kids all lined up for the same thing, "Mum I'm bored" my elder brother would say, "well you'll have to wait." "Yea I want my present so shut up" that's me ever the diplomat.
Well wait we did and I swear this Jolly soul looked the real deal, no fake beard for this fella. oh no, and the suit was excellent, straight form some Hollywood Jobby I'd say. "Ah my boy and what would you like for Christmas?" is this guy kidding me? I want a Bike obviously so I tell him, he just smiles with that "yea well I want a mansion" face, and passes me a wrapped parcel, OH Boy I love guessing the parcel, don't you? Hum ah yes well hum.... could be a book of some kind and something hard but squishy, blimey no idea what that is.
"WAIT!! till your brother gets his," Blimey ok miss angry I'm just investigating the possibilities here, give a kid a break, I say in my head, "Ok Mum" I really say, poking the lump in the centre of the parcel again.....na got nothing I'm thinking.
I must point out my sister is three at this stage and the light of her daddies eye who is now with Santa smiling like a Cheshire Cat with my sister in his arms, accepting the present on her behalf, the little tike rips into it straight away... well that's girls for ya.....
"Now you can open them" Mother says and she didn't have to say that twice so she didn't.
Rip!!........OH that's what it was, how cool a Huckleberry Hound bendy rubbery toy (I say bendy, but the toy clearly had a thick wire skeleton that would soon wear through the deteriorating rubber in time, a health and safety nightmare that would never happen now as the wire would also snap and protrude from the constant bending, very sharp broken ends and kids don't mix) but that was later this was now and this was a cool toy.
My elder brother had
Mr. Jinks
. the cat and my twin had Yogi Bear, Now your wondering what about the books, I'm getting there, the books turned out the be colouring and puzzle books which was also cool as it would give us something to do while the adults did their stuff... Ok which of you asked in your head "What did your sister get?" how do I know she's like ......a girl and it was probably some doll with a stupid bow. happy now? yeeesh..
The walk back to Gran and Grandads never took long and the fire lit in the grate was a cheery welcome to us Arctic explorers,just back from the north pole, it felt toasty warm after the cold night air. we were all now gathered in the dinning room in the middle of the lower floors of Gran's and there was a salad spread which we had to help ourselves to, ohhhh Yum, ham cheese lettuce be friends haha.. Oh and grandad made the best pickled Onions EVER!! so we all dipped into those... But Wait! there in the middle was another jar with what looked like tiny ears, to this day I wish I just stayed curious it was none other then a jar of pickled whelks, "go on try some it will put hairs on your chest" this was one of my Grandads' sayings he always used like a I dare ya.. I opened the jar and forked out a Whelk... I didn't like the look of this fella but I had to prove I'm a Man....ok tiny man, so I pop it in my mouth and my mouth said "NO we don't want it".... but I couldn't spit it out I'd be murdered where I stood, so I held my nose and swallowed EWWW it was like a bitter tasting rubber slug Eww... bluaaaa I didn't like it and from that day on I refused to eat anything that even hinted at putting hairs on my chest.
We Kids all made our beds on the floor of one of Gran's bed rooms to await Christmas day.....and I tell you there must have been some real sneaky sneaks going on that night, apart from almost being killed in my bed by my brothers whelky farts, there was a sack with Santa heading down the

Chimney

printed on it at the end of all our beds, Oh what a lovely surprise that was, I had a small model of a motorbike and sidecar a cowboy gun a holster sketch pads and pencils it was all fantastic. there was also Apples Orange and Bananas, you may think that strange but my parents grew up in the Second World War and to them this fruit was the greatest gift of all.
By the way just before Christmas a new show Called Doctor Who started that November with a grumpy old grandad in, I thought this very interesting.....Just imagine you could go anywhere in time, I could go see the Romans who Built the walls round Southampton and ask them when were they going to finish..
Except for the whelks I loved Christmas 1963 ..Yea yea yea yeaaaaa. as the Beatles would say.